The Rule Beertannia Collection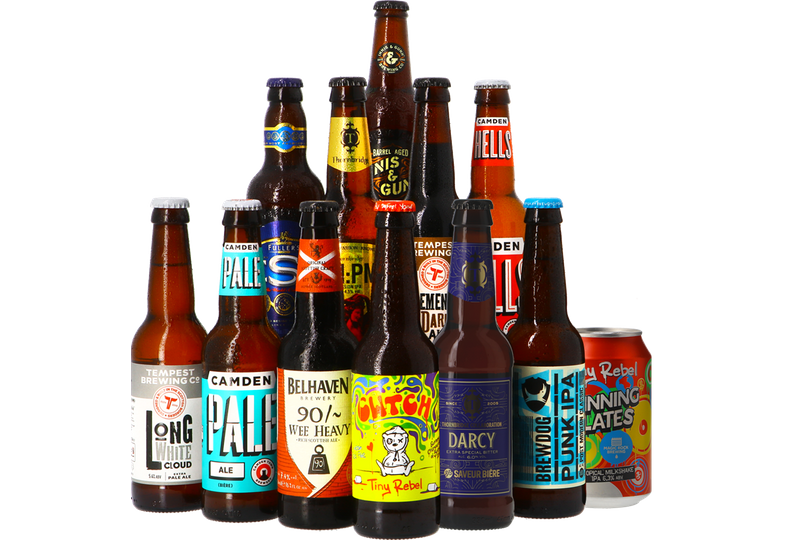 12 Classic British Beers in one superb selection pack - the perfect introduction to English Craft Beer
Characteristics
| | |
| --- | --- |
| Assortment Beer Count | 12 beers |
| Assortment Style Count | 9 styles |
| Assortment Country Count | 3 countries |
| Assortment Color Count | 4 colors |
| Style | Mix |
| Country | United Kingdom |
Sturdy packaging
Free return
Customer Service
Product Description
Fans of quality beer will love this tour of the British Isles in beer. Save The Queen promises a rich and rewarding tour of the UK and Ireland, showing off some of the very best Craft Beers on offer.
Brewdog, Punk IPA: The original Craft IPA, this Scottish brewis full of caramel malts and peach, pineapple and pine resin notes.
Thornbridge Jaipur: Thornbridge's flagship brew, Jaipur is a classic IPA with tropical hops and a reassuring malt backbone
Bellhaven Wee Heavy: chewy, sticky, spicy Scotch Ale from Scotland's oldest brewery
Thornbridge, AM:PM: A fruity IPA with big toffee malts and a temptingly tropical hops character
Innis & Gunn Blood Red Sky: Sumptuous Scottish Strong Ale aged over rum casks
Tiny Rebel Cwtch: A wonderfully light, fruity, bitter Welsh Red Ale from South Wales
Fuller's ESB: The original ESB, fullers strong Ale is full of toffee malts and big bitter hops
Tempest Long White Cloud: Fresh, refreshing American Pale Ale brewed in Scotland with a zesty New Zealand hops.
Tempest Elemental Dark Ale: Deep, dark Scottish Porter with mocha coffee tones.
Camden Town Pale Ale: Crisp, clean Pale Ale with fresh biscuity malts and modern fruity hops profile
Cromarty Red Rocker: Peppery, spicy Rye Ale brewed with a toasty, fruity twist
Camden Hells Lager: A modern take on the German Light lager with crisp malts and elegant herbal hops
At HOPT we want to bring you the very best beers, right to your door. Sometimes, one of the bottles listed is out of stock, in which case we'll replace it with a bottle of equivalent or greater value to ensure your experience at HOPT is the best it can be!
Sturdy packaging
Free return