The Round the World Collection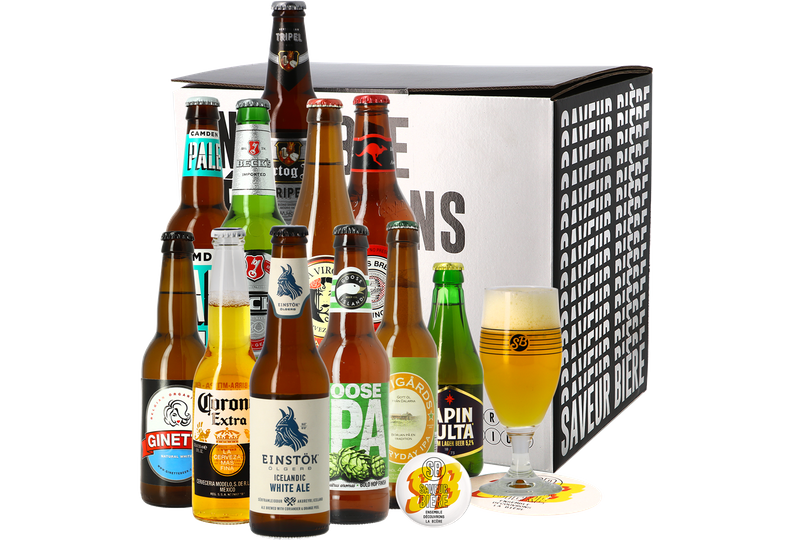 11 Beers celebrating some of the most successful and celebrated Breweries from around the world, and the glass to taste them !
Characteristics
| | |
| --- | --- |
| Assortment Beer Count | 11 beers |
| Assortment Glass Count | 1 glass |
| Assortment Style Count | 9 styles |
| Assortment Country Count | 11 countries |
| Assortment Color Count | 4 colors |
| Style | Mix |
| Country | World |
Sturdy packaging
Free return
Customer Service
Product Description
Saveur Bière and Hopt's Craft World Collection is a specially curated collection of beers that celebrates some of the biggest movers-and-shakers from the world of international Craft Beer.
This special selection brings together some of Saveur Bière and Hopt's all-time best selling beers as well as recipes from some rising stars. The collection features:
Goose Island IPA – American IPA with a strong tang of hops, malt, caramel and fruits like grapefruit and tropical fruits.
Camden Pale Ale 
La Virgen Madrid Lager  
Franziskaner Weissbier  
Birra Del Borgo ReAle 
Ginette Natural Blonde Bio
Camden Plum Sour 
Hertog Jan Grand Prestige
Leffe Royale Cascade IPA 
Goose Island 312 Urban Wheat Ale
Corona Extra  
Goose IPA, une américaine de style IPA aux arômes de houblon, de malt, de caramel, de pin et de fruits comme le pamplemousse et les fruits tropicaux.
Goose Island glass
At HOPT we want to bring you the very best beers, right to your door. Sometimes, one of the bottles listed is out of stock, in which case we'll replace it with a bottle of equivalent or greater value to ensure your experience at HOPT is the best it can be!
Sturdy packaging
Free return