Founders Discovery Pack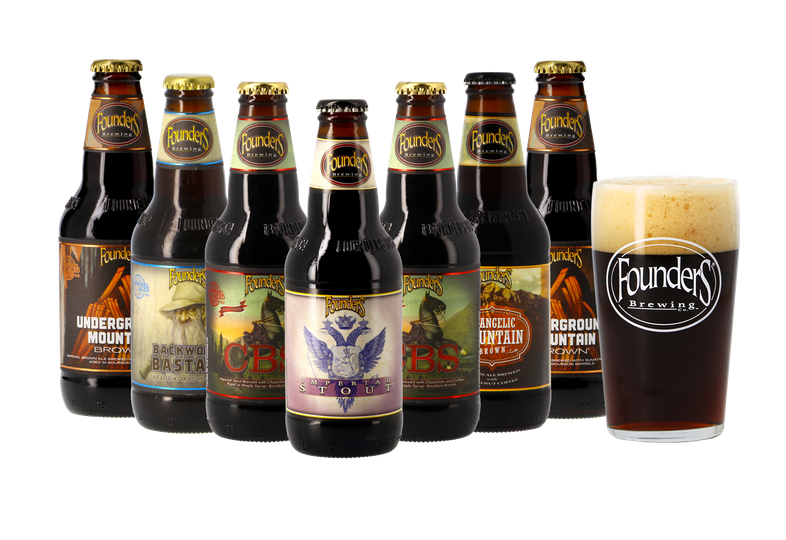 Characteristics
| | |
| --- | --- |
| Assortment Beer Count | 7 beers |
| Assortment Glass Count | 1 glass |
| Assortment Style Count | 4 styles |
| Assortment Country Count | 1 country |
| Assortment Color Count | 2 colors |
| Style | Barrel Aged |
| Country | USA |
Sturdy packaging
Free return
Customer Service
Product Description
The Founders Discovery Pack includes a batch of seven beers from the American brewery Founders, as well as the dedicated glass offered :
Founders Backwoods Bastard 2019 is an American Scotch Ale with an amber colour and flavours of caramel, wood, whisky, malt and spices.
Imperial Stout is a smooth dark ale with roasted malt, coffee, chocolate and caramel flavours.
Frangelic Moutain Brown is an American Brown Ale with a brown-black colour and flavours of chocolate, hazelnut, roasted malt and coffee.
x1 Complimentary Founders glass
x2 Founders Underground Mountain Brown is a version of the Sumatra Mountain Brown, aged in bourbon casks for one year. It is an American brown ale with a brown colour topped with a fine creamy beige foam, and has aromas of cold coffee, hazelnut, coffee, vanilla and toffee. 
 x2 Canadian Breakfast Stout 2019 is an Imperial Stout brewed with coffee and chocolate and then aged in maple syrup barrels that have contained bourbon. It has a black robe topped with a fine beige mousse, for flavours of chocolate, roasted malt, bourbon, coffee and maple syrup.
Sturdy packaging
Free return