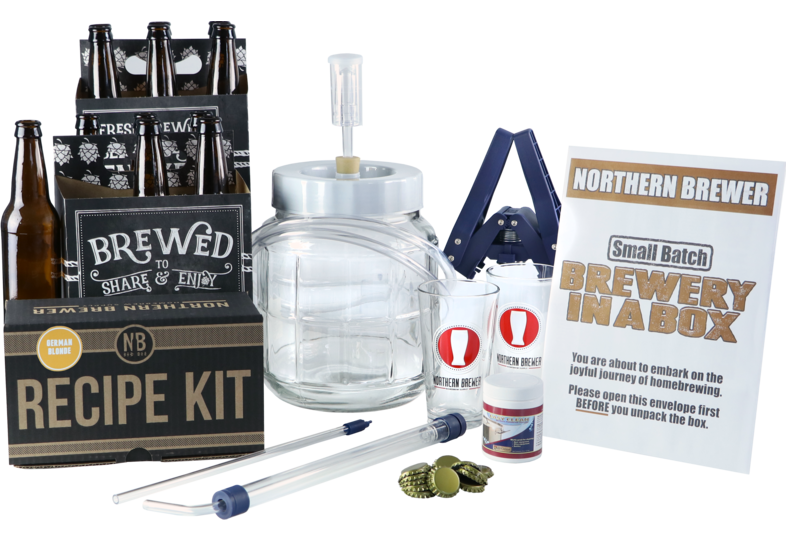 Northern Brewer's Go Pro kits have everything you need to brew a small batch of quality beer.
Characteristics
| | |
| --- | --- |
| Brewkit level | Beginner |
| Kit type | Patch Kit + bottling Kit |
| Style | IPA |
| Kit quantity (liters) | 4.00 |
| | |
| Brewing time (h) | 2.50 |
Sturdy packaging
Free return
Customer Service
Product Description
The kit comes with easy instructions. Designed by the Northern Brewer brewmeisters, this complete beer kit features all the equipment you'll need, plus a recipe kit made with high-quality ingredients.
The kit features Northern Brewer's famous Little Big Mouth Bubbler®, making cleaning and transferring easy. It also has enough room to allow even the most lively fermentation. This home brewing kit is the craft beer enthusiast's gateway to brewing like a pro. Brew like a pro with Go Pro.
Fields marked with (*) are compulsory
*Recipe Kit Option
Designed by Northern Brewer's brewmeisters, this kit features ingredients used by real craft breweries. Go Pro means pro-quality craft beer so good you won't believe you made it yourself. Thanks to easy-to-follow instructions tried-and-tested by customers over the last 20 years, the process  is as easy as pie. And if that's not enough, Northern Brewer filmed its beermeisters at work, so you can brew with them!
Whether you want to get a taste of brewing, or you've already decided it's for you, Go Pro is a sure-fire hit. With small, 1-gallon batches, you can experiment with different beer styles until you find your favourite. And you can brew without taking over the kitchen. Make top-flight beer in your house, apartment, or even the cupboard under the stairs! With Go Pro, Northern Brewer offers you quality and success you won't find anywhere else.
Your kit includes:
1 Gallon Recipe Kit
Little Big Mouth Bubbler®, Bung & Airlock
Blowoff Hose
Auto-Siphon & Tubing
Bottle filler, capper and 20 caps
12 Beer Bottles and 2 Carriers
2 Pint Glasses
Brewery Cleaner
Chinook IPA Complete Instructions
Sturdy packaging
Free return