Angelus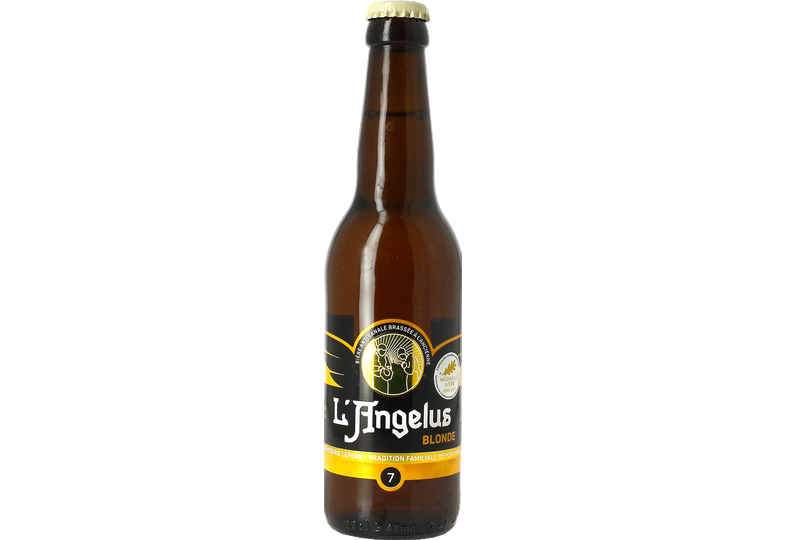 Discover a craft beer, many times rewarded in the General Agricultural Contest since 2007.
Characteristics
| | |
| --- | --- |
| Style | Amber Ale |
| Volume | 33 cL |
| ABV | 7° |
| Country | France |
| Color | blond |
| Style | bière de garde |
| Appearance | Cloudy appearance due to wheat deposits |
| Aroma | Fruity and honey aromas |
| Taste | Unctuous, honey flavours, fruity notes of peach and citrus fruits |
| Bitterness | |
| Sweetness | |
| Taste tag | malty & chewy |
Sturdy packaging
Free return
Customer Service
Product Description
The Angelus was awarded a prize for 5 consecutive years in the famous General Agricultural Contest of Paris. It received the gold medal in 2007 and 2009 and the silver medal in 2008 and 2010. This craft beer came back in its home town in the North of France to win another medal (bronze) in 2011. This great achievement has become usual for the brewery Lepers and its quality beers.
This Bière de Garde is produced by the Lepers Family in a city located near Lille, in northern France. It pours a cloudy colour due to the use of wheat. This characteristic, unusual in the region, makes the Angelus a unique beer with a very fruity scent and offers light scents of honey and peach.
For the eyes as for the nose, this beer has something great to offer. It features in the mouth light acidity along with full flavours of white-fleshed fruit, citrus fruits and honey. We advise you to enjoy it as an aperitif or while eating fish-based dishes.
The Angelus completes the collection of beers of the region where a great deal of variety can be found and quality products are guaranteed. The malts and hops contained in the recipe are very discreet, however this beer will delight every one who would rather taste a rich range of flavours than strong bitterness. 
Sturdy packaging
Free return