Guillotine (la)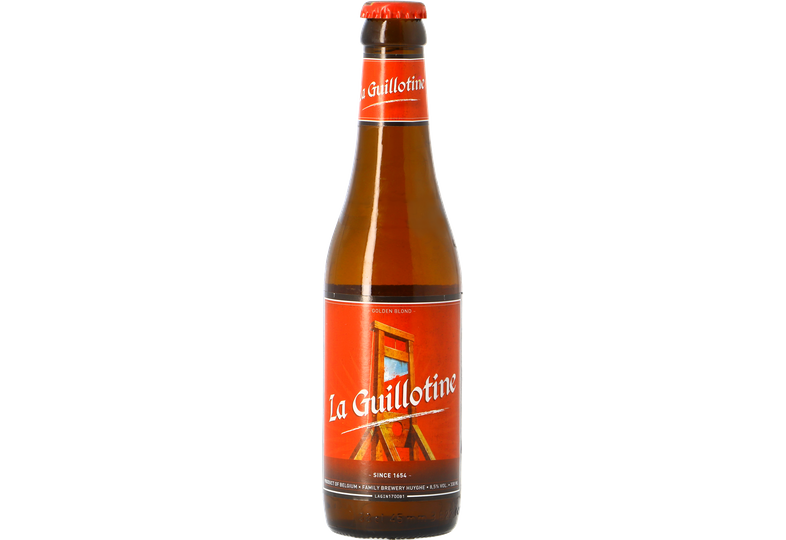 A Belgian Blonde to make you lose your head! 9% ABV with a powerful taste!
Characteristics
| | |
| --- | --- |
| Style | Pale ale |
| Volume | 33 cL |
| ABV | 9° |
| Country | Belgium |
| Color | blond |
| Style | belgian pale ale |
| Appearance | Robe d'un blond orangé et une mousse blanche |
| Aroma | bouquet aromatique très fruité et notes de levures |
| Taste | Saveurs douces, fruitées et épicées. Alcool discret |
| Bitterness | |
| Sweetness | |
Sturdy packaging
Free return
Customer Service
Product Description
A beer to take away your breath... or rather, your thirst! It needs more than word games to describe La Guillotine. That said, this Belgian beer really will take your breath away with its high ABV.
All the traditions of the well-rounded strong Blonde are brought together in this colourful, opaque bottle. Once freed from its ceramic prison, it has a orangey blonde colour and a white head.
The bouquet seems malty at first, but it's not long before the three aromatic hops used in its production make their presence felt. Overall it has a very fruity bouquet with tangy scents of citrus fruits and powerful notes of yeast.
This is a mild beer with mainly fruity and spicy flavours. Bottle conditioning brings delicious, very fruity and slightly spicy flavours of yeast.
It is very well-balanced and leaves a trace of dryness on the finish. The hops used also give it a delicious bitterness. Like most of the strong beers from the Huyghe brewery, Guillotine is an enjoyable, easy-drinking beer. Be careful, because it's enough to make you lose your head.
Sturdy packaging
Free return