Brugse Zot Dubbel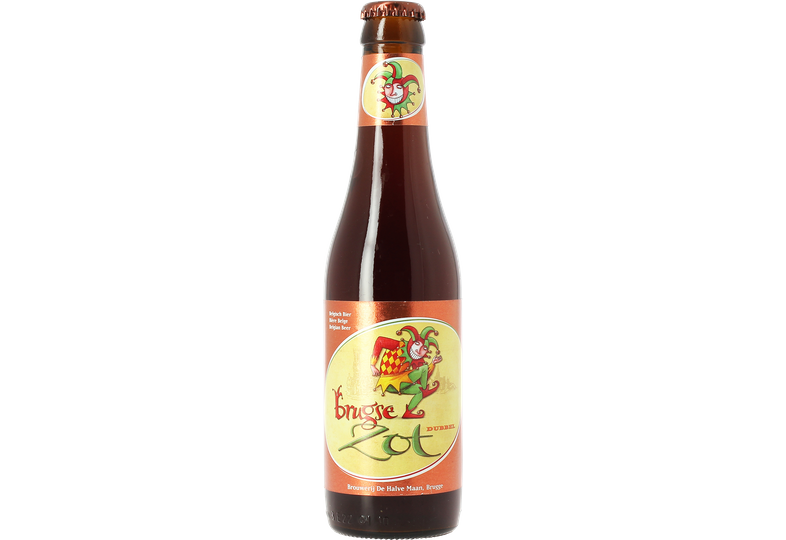 Brugse Zot Dubbel, a flavoursome beer brewed with six different malts!
Characteristics
| | |
| --- | --- |
| Style | Dubbel |
| Volume | 33 cL |
| ABV | 7.5° |
| Country | Belgium |
| Color | brown |
| Style | dubbel |
| Appearance | Robe d'un brun sombre, transparence rouge foncée. |
| Aroma | Arômes maltés avec de belles notes de fruits |
| Taste | Saveurs maltées de caramel, notes fruitées et épicées |
| Bitterness | |
| Sweetness | |
Sturdy packaging
Free return
Customer Service
Product Description
Brugse Zot Dubbelis a brown version of the beer brewed in the historical heart of Bruges, dubbed Brugse Zot. Its name means "the Fool of Bruges" in Flemish, and is the name given the city's residents, derived from the old traditions and local legends.
With its new lease of life, the young Straffe Hendrik brewery, producer of the Brugse Zot beers has been working ever since it opened in 2005 to promote brewing heritage and traditions in the city of Bruges. These days it is the last operating brewery in the historical centre of Bruges, a city which in the past was home to a great many breweries.
Brugse Zot Dubbel is brewed with six special kinds of malt, giving it this brown colour with reddish highlights which distinguishes it from its blonde sister.
On the nose, this brown beer delivers aromas of caramel, toasted malt with delicious hints of ripe fruits and fragrances that are suggestive of spices.
The palate has malty flavours, still with hints of caramel and toasted grains together with delicious notes of ripe fruits and a spicy touch of cinnamon. A delicious light but sharp bitterness then emerges, the result of the famous Czech Saaz hops used to produce this Brugse Zot Dubbel.
This uncomplicated beer, stronger than the blonde version, came of age in 2011 when it was awarded the silver medal in one of the most prestigious and world-acclaimed brewing competitions: the Brewing Industry International Awards. For the best tasting experience, we recommend you serve it in its proprietary Brugse Zot glass
.
Sturdy packaging
Free return