Achel Blond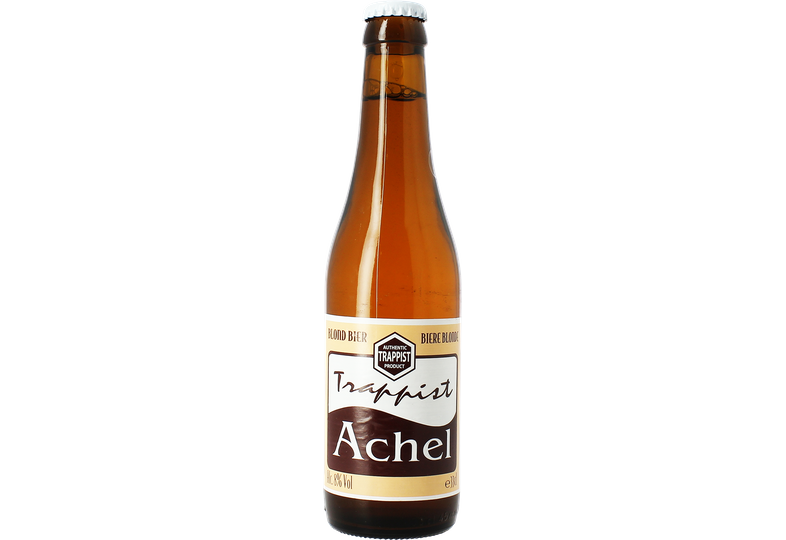 An exquisite Authentic Trappist beer with hints rich ripe fruit and honey malt flavours
Characteristics
| | |
| --- | --- |
| Style | Pale ale |
| Volume | 33 cL |
| ABV | 8° |
| Country | Belgium |
| Color | blond |
| Style | belgian pale ale |
| Appearance | Amber-coloured |
| Aroma | fruity flavoured, aromas of malt |
| Taste | Round and smooth, sweet flavours of citrus fruits |
| Bitterness | |
| Sweetness | |
| Taste tag | malty & chewy |
Sturdy packaging
Free return
Customer Service
Product Description
Brewed at the Monastery of Notre Dame de Saint Benoît in Belgium, Achel Blond is one of the few trappist beers in the world.
In fact, to be granted the label of trappist beer, the beer must be brewed in a monastery under the monitoring of the monastic community from the Cistercian tradition. These are compelling conditions extremely hard to gather and only 9 breweries in the world do respect them and can therefore be named this way. But once you are granted this label, it means that your beer is of high quality and in total respect of the brewing world traditions.
Compared to the other trappist beers, the taste of this Achel Blond is relatively simple and has less character, not that it makes it an any less pleasant beer.
It pours an amber colour, round and sweet for the nose, where you can easily feel the esters and scents of smooth malt reminiscent of ripe grapes from late harvest.
In the mouth, the entrance is pleasant, sharp, round and sweet with a hint of bitterness and acrity reminiscent of pink ripe grapefruit peel. It stays long in the mouth and one can notice a post-bitterness which is yet not too dry. A sweet honey and malty dominance can be perceived upon the whole.
Discover another trappist beer: Westvleteren 12. For beer connoisseurs, this Trappist beer is considered as one of the best beers in the world! It is therefore a must-have if you want to become an expert and a true beer lover one day.
Sturdy packaging
Free return