Augustijn Grand Cru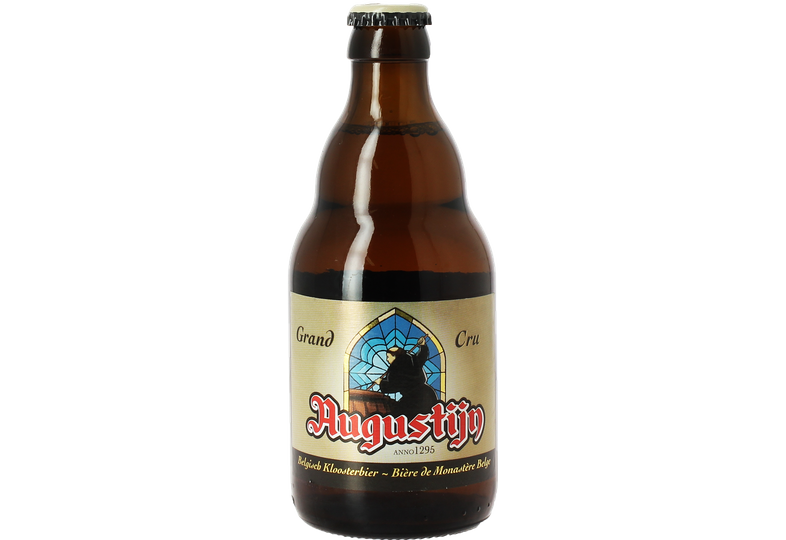 An amber beer with spicy notes of coriander. A real Grand Cru!
Characteristics
| | |
| --- | --- |
| Style | Pale ale |
| Volume | 33 cL |
| ABV | 9° |
| Country | Belgium |
| Color | amber |
| Style | belgian pale ale |
| Appearance | Robe ambrée et brumeuse |
| Aroma | Arômes doux, notes d'épicés, d'agrumes et de levure |
| Taste | Douces et épicées, amertume houblonnée sur le final |
| Bitterness | |
| Sweetness | |
| Taste tag | malty & chewy |
Sturdy packaging
Free return
Customer Service
Product Description
Experience one of the Van Steenberge brewery's best kept secrets - Augustijn Grand Cru. A Triple version of the Augustijn Blonde, thisAbbey Beer develops more complex flavours and an ABV higher than its little blonde sister.
When poured, Augustijn Grand Cru has a hazy amber appearance capped with a thick head that slides slowly down the sides of the glass. On the nose, this Belgian beer is very mild with hints of spices, citrus fruits and yeast.
The palate is also initially mild, blending with a mix of spices suggestive of coriander. Mid-palate, the alcohol begins to prick at your tongue to remind you of its presence. The spicy character is then replaced by a hoppy bitterness that brings the tasting to a lingering close.
An excellent Triple Abbey beer which deserves to be well known and fully appreciated!
Sturdy packaging
Free return