Straffe Hendrik Quadruple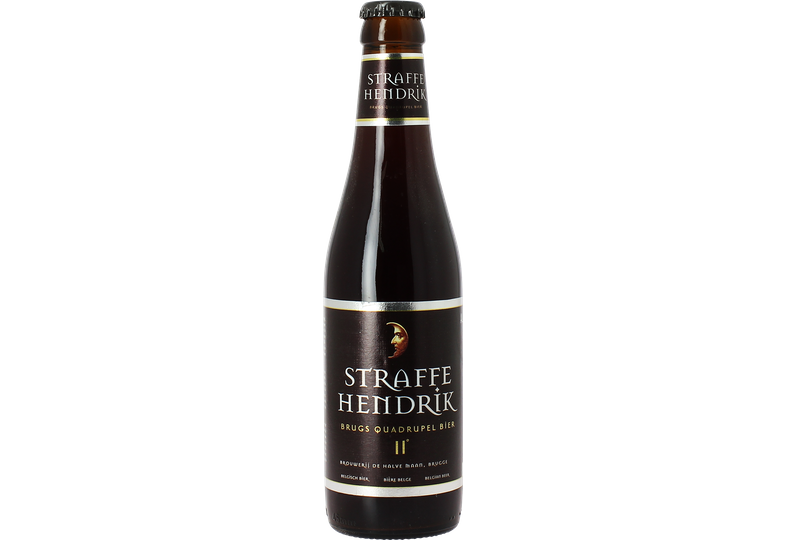 A richly malted Quadrupel full of complex fruit and yeast flavours
Characteristics
| | |
| --- | --- |
| Style | Quadrupel |
| Volume | 33 cL |
| ABV | 11° |
| Country | Belgium |
| Color | brown |
| Style | quadrupel |
| Appearance | |
| Aroma | |
| Taste | |
| Bitterness | |
| Sweetness | |
Sturdy packaging
Free return
Customer Service
Product Description
Allow Straffe Hendrick Quadrupel to take you to the complex, malty world of Quadrupel beers. Full-bodied and reassuring, Quadrupels require a long maturing in order to complete the fermentation cycle and develop the full range of characteristics, something at which De Halve Maan brewery is particularly proficient.
Pouring mahogany with red highlights typical to the style, this beer is capped by a white head, remarkable both in quality and quantity. From underneath this remarkable head escapes a complex bouquet, bursting with scents such as melon and berries, and smoky, toasty coffee and malt notes.
It also gives an indication to the liqueur-like quality thanks to the conspicuous alcohol note.
On the tongue, there is a an even greater complexity with more red fruit and grape flavours, quickly eclipsed by light toasted notes and hints of jammy stewed fruits. While the alcohol definitely makes its presence known, it remains balanced, adding further to this beer's excellent balance.
Straffe Hendrick Quadrupel by De Halve Maan is a truly excellent example of its type, confirming the brewery's well-deserved reputation.
Sturdy packaging
Free return