Jaipur Thornbridge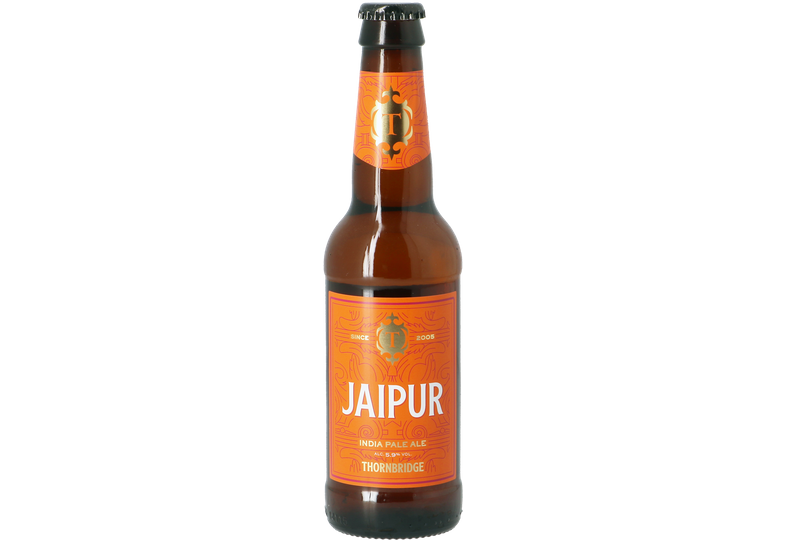 Well-hopped and richly fruity, this lively classic IPA from Thornbridge is guaranteed to please
Characteristics
| | |
| --- | --- |
| Style | IPA |
| Volume | 33 cL |
| ABV | 5.9° |
| Country | england |
| Color | blond |
| Style | american ipa |
| Appearance | Pale copper blonde |
| Aroma | Lemon, peach, hops |
| Taste | Fruity, hoppy, bitter-sweet |
| Bitterness | |
| Sweetness | |
| Taste tag | fresh & hoppy |
Sturdy packaging
Free return
Customer Service
Product Description
This India Pale Ale from English brewer Thornbridge is guaranteed to surprise and delight in equal measure. The brewery, whose motto is "Innovation, Passion, Knowledge", has created a beer awash with classic IPA traits.
Pouring a pale blonde with a creamy white head, Jaipur is soft with a gradual explosion of hops. The bouquet is fresh with an enchantingly fruity hop side that brings to mind citrus and peaches.
On the tongue there is a sweet, lightly toasted malt quality as well crisp lemon notes, while the marked bitterness is balanced by the sweetness of the malt.
Jaipur is the perfect illustration of what Thornbridge does so well.
Sturdy packaging
Free return