Page 24 Blonde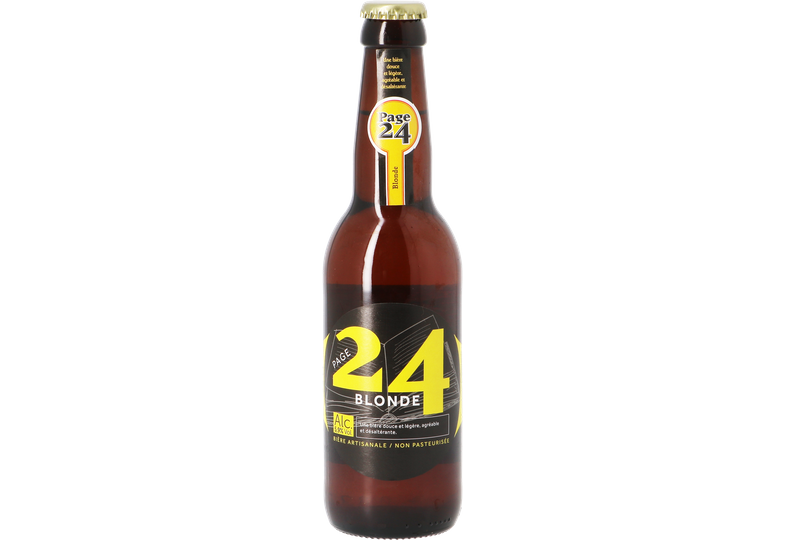 This top-fermented beer won the Silver Medal at the 2011 Concours Général Agricole!
Characteristics
| | |
| --- | --- |
| Style | Amber Ale |
| Volume | 33 cL |
| ABV | 5.9° |
| Country | France |
| Color | blond |
| Style | bière de garde |
| Appearance | Robe jaune légèrement foncée |
| Aroma | Arômes houblonnées et fruités, notes maltées |
| Taste | Saveurs douces, fruitées et mielleuses, légère amertume |
| Bitterness | |
| Sweetness | |
| Taste tag | malty & chewy |
Sturdy packaging
Free return
Customer Service
Product Description
The Page 24 Blonde is a traditionally crafted beer made for ageing by the St Germain brewery, near Arras in the Pas-de-Calais. This beer has been brewed since the brewery opened in 2003, and has made a large contribution to its success. The first major success of this fledgling brewery, it has shown the way, and today, most of the "Page 24" beers are decorated with at least one medal from the Concours Général of the Paris Agricultural Show, a sign of both quality and originality! This Page 24 Blonde was awarded a silver medal at the 2008 Agricultural Show and a silver medal at the 2011 edition. Flavoured with a harmonious selection of aromatic hops, this pale Page 24 has a light, hoppy bouquet with aromas of fruit and delicate cereal scents. The palate is mild and well balanced, with lovely mild flavours blending malt and hops with hints of fruit and honey and a very slight underlying bitterness. The palate finishes on a mild note. The Page 24 is a harmonious pale ale which is sure to become a classic. In the meantime it is an excellent alternative to the Belgian abbey pale ale.
Sturdy packaging
Free return