Birra Del Borgo 25 Dodici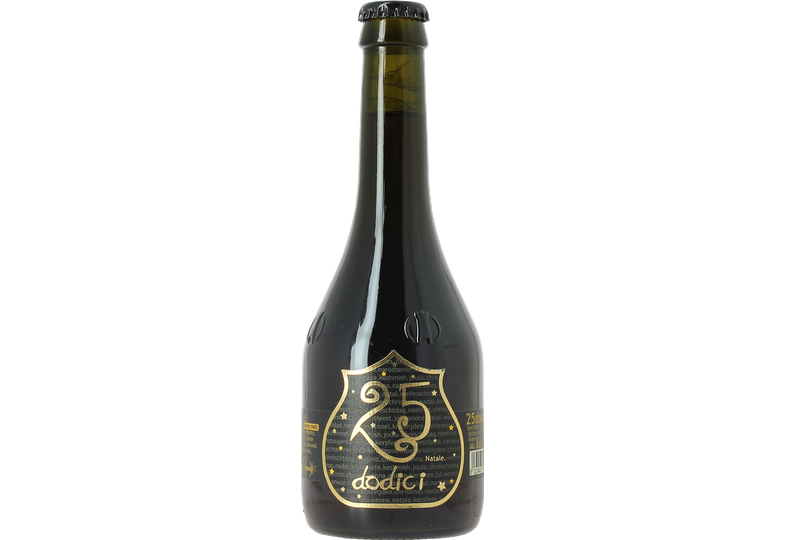 The grand finale of Beery Christmas 2016 - Birra Del Borgo's sumptuous Dodici
Characteristics
| | |
| --- | --- |
| Style | Strong Ale |
| Volume | 33 cL |
| ABV | 8° |
| Country | italy |
| Color | brown |
| Style | dark strong ale |
| Appearance | Dark caramel body |
| Aroma | Jammy fruit notes, demerara sugar |
| Taste | Soft plummy fruit, big malt |
| Bitterness | |
| Sweetness | |
| Taste tag | rich & toffee |
Sturdy packaging
Free return
Customer Service
Product Description
Throughout Beery Christmas 2016, we wanted to show you new horizons in the world of beer. The final voyage of discovery came courtesy of Italy's Birra Del Borgo.
25 Dodici is a Belgian Dark Strong Ale-style beer that pours a rich caramel amber colour beneath a fine tan head.
The nose is a feast of soft fruit, with grapes, plums, and greengages, as well as fine citrus, and caramel malts. On the tongue, the soft, complex fruit flavours reappear, joined by yeasty, spicy notes set in a slick, lightly carbonated body for a soft, fruity finish.
Sturdy packaging
Free return