Founders All Day IPA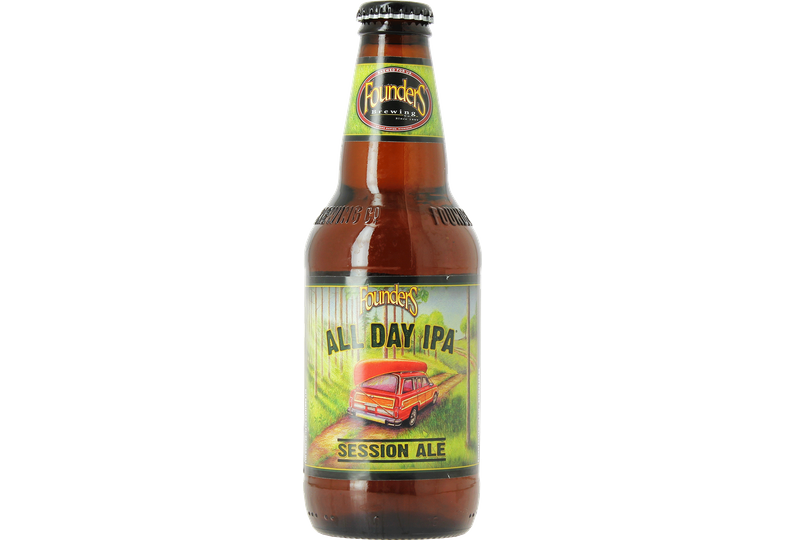 Refreshing, perfectly balanced Session IPA from the Founders Brewing Company
Characteristics
| | |
| --- | --- |
| Style | IPA |
| Volume | 35.5 cL |
| ABV | 4.7° |
| Country | USA |
| Color | blond |
| Style | american ipa |
| Appearance | Yellow-orange, delicate white head. |
| Aroma | Peach, grapefruit, malt, herbs, caramel. |
| Taste | Fruit, citrus, grapefruit, peach, hops, malt, pine, flowers and herbs. |
| Bitterness | |
| Sweetness | |
| Taste tag | fresh & hoppy |
Sturdy packaging
Free return
Customer Service
Product Description
"Close MDD*, preferably to be consumed before 11/28/2020.
*Minimum durability date (formerly DLUO): Beyond the date indicated, the beer may lose some of its taste or nutritional qualities but does not represent any danger to health."
Laid-back, refreshing, perfectly balanced Session IPA from the Founders Brewing Company of Chicago, Illinois, All-Day IPA is a classic Session IPA with all the sweet caramel malts and full-on zingy, zesty, juicy hops bitterness you expect from an IPA but with a lighter, more easy-drinking character.
Pouring lightly hazy orange beneath a small, foamy white head, All-Day IPA is bursting with fresh, juicy peach and apricot scents backed by a delicious pine resin hops bitterness that leads you gently but firmly to a super-satisfying crisp finish.
Sturdy packaging
Free return