Founders Mosaic Promise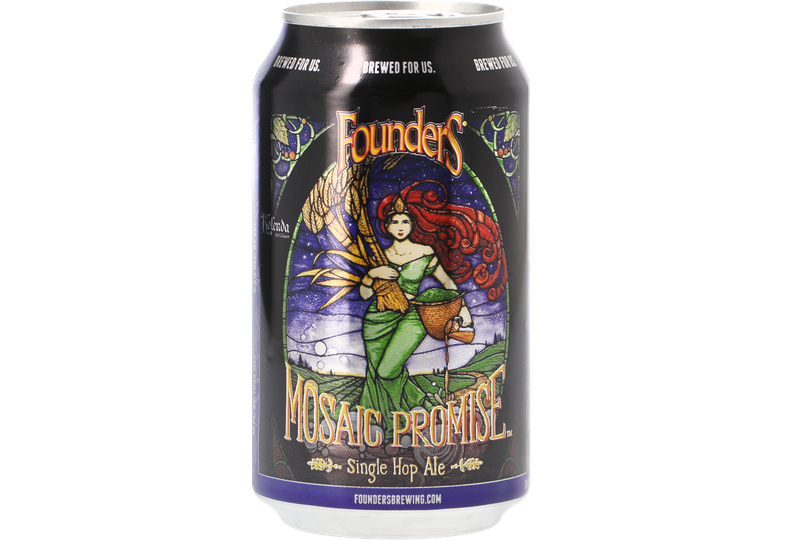 Vibrant, zesty, malty no-nonsense IPA
Characteristics
| | |
| --- | --- |
| Style | Pale ale |
| Volume | 35.5 cL |
| ABV | 5.5° |
| Country | USA |
| Color | blond |
| Style | american pale ale |
| Appearance | Hazy gold body, white head |
| Aroma | Sweet citrus and earthy hay hops, caramel malt |
| Taste | Grapefruit hay and pine hops, oat bread malt |
| Taste tag | fresh & hoppy |
Sturdy packaging
Free return
Customer Service
Product Description
One of America's most popular craft breweries, Founders built its reputation on quality, and with this back-to-basics IPA, it's clear to see why.
Using just one malt and one hop, namely Golden Promise and Mosaic, this elegant Mosaic Promise subscribes to the KISS* principle – i.e. Less is More!
Pouring hazy gold, Mosaic Promise reveals a clean Golden Promise malt backbone, coupled with elegant citrusy Mosaic hops that bring a superb earthy, grassy character, and a suitable developed bitterness that together make this IPA a true exercise in simplicity.
*K.I.S.S. - Keep It Simple, Stoopid!
Sturdy packaging
Free return