Best-sellers MiniPack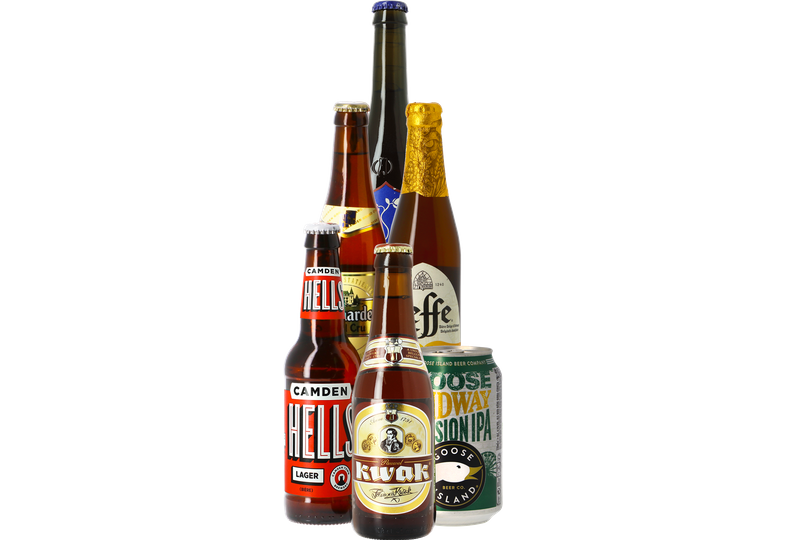 Sample our top six all-time best-sellers in one superb selection pack
Characteristics
| | |
| --- | --- |
| Assortment Beer Count | 6 beers |
| Assortment Style Count | 6 styles |
| Assortment Country Count | 4 countries |
| Assortment Color Count | 2 colors |
| Style | Mix |
Sturdy packaging
Free return
Customer Service
Product Description
Now you can enjoy six of our all-time top-sellers in one minipack. With beer from Belgium, Netherlands, France and the UK, now you can find out what the world is drinking, and why it's so popular…
The Best-sellers minipack features:
- Camden Town Brewery, Pale Ale is an English lager with flavours of hops, herbs and citrus fruits such as lemon and grapefruit.
- Kwak is a thirst-quenching Belgian beer in the Pale Ale style that lets us smell aromas of fruit and spices.
- Hoegaarden Grand Cru is an incredibly sweet Belgian Pale Ale beyond its 8.7% alcohol, flavoured with coriander and orange, in which one finds notes of spices and malt.
- Goose Island IPA is a India Pale Ale with floral hops and a well balanced bitterness.
- Leffe Triple is a famous Belgian Triple, complex with its fruity and hoppy flavours.
- Birra Del Borgo ReAle, an Italian beer, easy to drink with its moderate bitterness and citrus and caramel flavours.
Sturdy packaging
Free return