La Corne du Bois des Pendus Blonde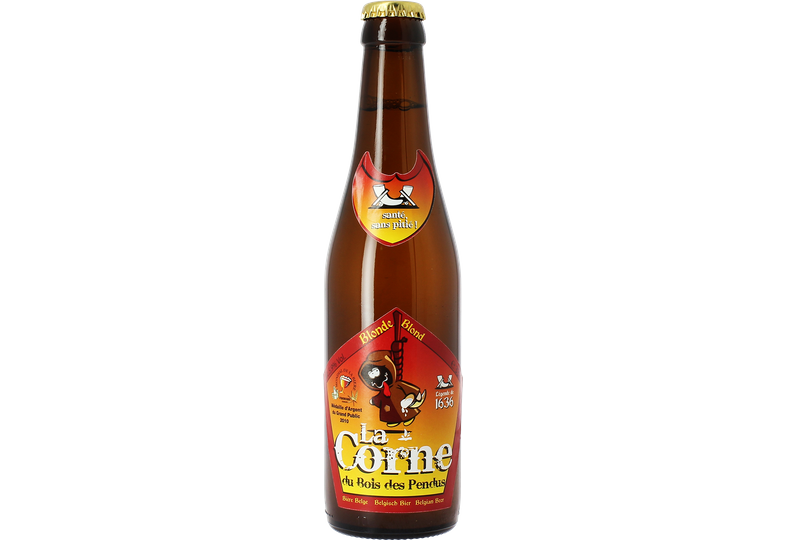 Award-winning Belgian Blonde awash with fruity orange and apple tones
Characteristics
| | |
| --- | --- |
| Style | Pale ale |
| Volume | 33 cL |
| ABV | 5.9° |
| Country | Belgium |
| Color | blond |
| Style | belgian pale ale |
| Appearance | Gold clear |
| Aroma | Fruity aromas of orange, apple and melon |
| Taste | Hoppy, fruity and malty notes |
| Bitterness | |
| Sweetness | |
Sturdy packaging
Free return
Customer Service
Product Description
The Corne du Bois des Pendus Blonde (Horn of the hanged men's wood) is a lager brewed with Pilsen (kind of malt) and wheat. These ingredients provide the beer with its golden colour topped by a creamy and rich head.
For the rest of the composition, the two strains of hops provide it with strong bitterness. In the mouth, it also features flavours of citrus fruit, rose and melon, giving it a refreshing and sweet personality.
This Belgian beer brewed by Ebly has received the Silver medal in the category "Audience prize" in the World Beer Cup in Strasbourg in 2010. 
Sturdy packaging
Free return