De Molen Op & Top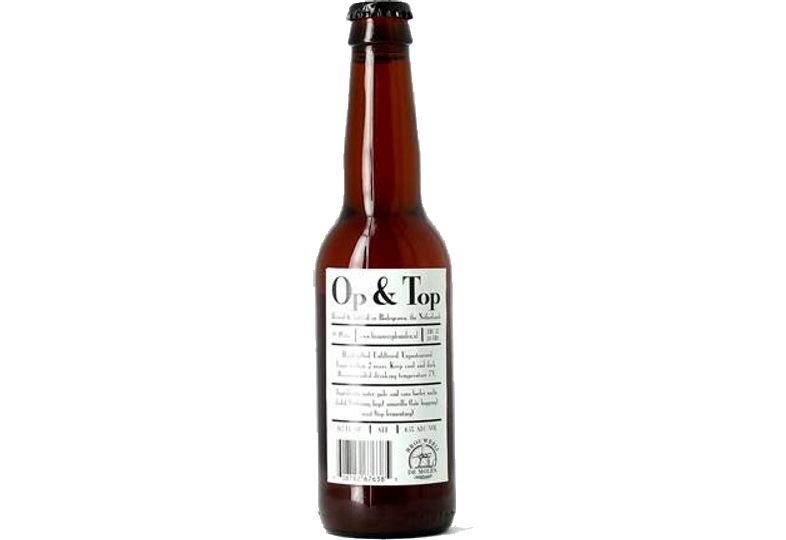 De Molen offers a beer at the crossroads of English bitter style and classic American IPA.
Characteristics
| | |
| --- | --- |
| Style | Pale ale |
| Volume | 33 cL |
| ABV | 4.5° |
| Country | netherlands |
| Color | amber |
| Style | bitter |
| Appearance | Lightly amber with orange glints |
| Aroma | Notes of peach and citrus fruit |
| Taste | Light, dry and bitter |
| Bitterness | |
| Sweetness | |
Sturdy packaging
Free return
Customer Service
Product Description
The Op & Top is an English bitter-style beer brewed by the Dutch from De Molen. It is original in that it uses American hops, in particular Cascade and Amarillo. It's a rather light beer since its ABV reaches 4.5%, it features an aromatic profile which is absolutely unexpected for this style of beer.
This Dutch beer pours a lightly amber colour with superb orange glints. The whole is topped by an impressive white head. It challenges the nose with aromas of peach, citrus fruit and caramel whereas the mouth is thin, light and very fruity. In the end, the tasting becomes dry and relatively bitter.
You will have understood that this amber beer is at the crossroads between English Bitter and Indian Pale Ale. It is per consequent perfect for quenching your thirst during a warm day!