Magnum St Feuillien de Noël Cuvée 2012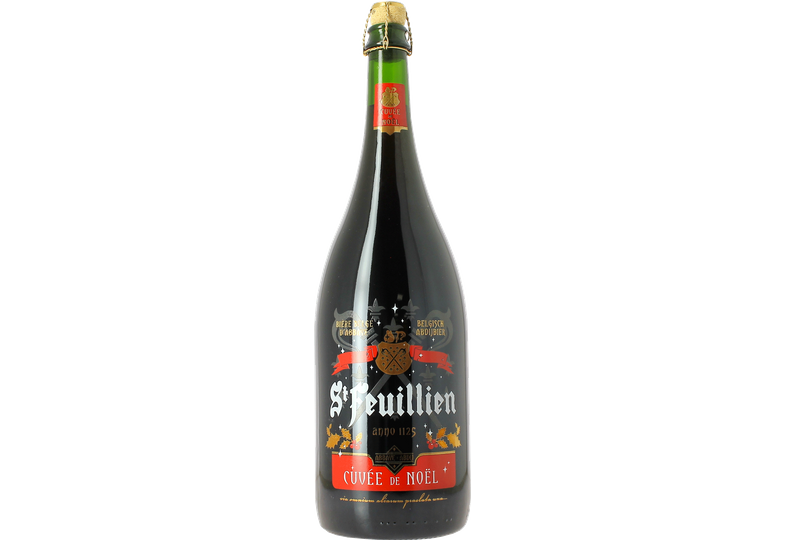 The Saint-Feuillien, a Magnum from 2012, just delicious.
Characteristics
| | |
| --- | --- |
| Style | Bière de Noël |
| Volume | 1.5 L |
| ABV | 9° |
| Country | Belgium |
| Color | ruby |
| Style | winter ale / christmas ale |
| Appearance | |
| Aroma | |
| Taste | |
| Bitterness | |
| Sweetness | |
Sturdy packaging
Free return
Customer Service
Product Description
The Saint-Feuillien Cuvée de Noël is specially brewed at the end of the year. It is a festive, tasty beer with coppery glints. This Cuvée de Noël is re-fermented in bottle, after it aged several months in the cellars of the Brewery Saint-Feuillin.
It distinguishes itself by its delicate aroma and its remarkable unctuousness. Its head develops an impressive presence and remains for a long time on the glass rim. It pours a slightly brownish colour due to the roasted barley; visually it gives a deep brown ruby colour. The beer itself is round and sweet thanks to the synergic combination between caramelized malts and the carefully monitored fermentation.
One can notice that the bitterness never shows strong, but it gives the whole its harmony, based on the ingredients balance.
This Magnum will delight people around you during the festive season; it will without a doubt make an ideal present for the person you wish to please.
Sturdy packaging
Free return