Cuvée Des Jonquilles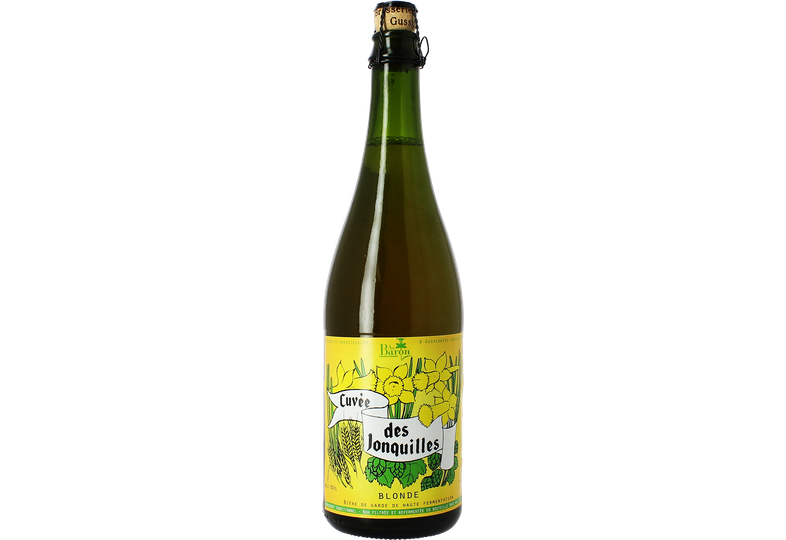 The famous Avesnois light ale, available in 75 cl!
Characteristics
| | |
| --- | --- |
| Style | Amber Ale |
| Volume | 75 cL |
| ABV | 7° |
| Country | France |
| Color | blond |
| Style | bière de garde |
| Appearance | Yellow with a white head. |
| Aroma | A nose that smacks of caramel, with floral notes. |
| Taste | A malty prelude with a bitter finish. |
| Bitterness | |
| Sweetness | |
Sturdy packaging
Free return
Customer Service
Product Description
No doubt the most well-known of the Brasserie Au Baron beers, this Cuvée des Jonquilles is making a name for itself both in France and abroad. Let's not also forget that this beer walked away with the Gold Medal in the Brussels Beer Challenge in 2012!
So Cuvée des Jonquilles is a French beer that pours a slightly dark and hazy golden colour, characteristic of any beer that continues to ferment in the bottle. The nose offers tasters a beautiful complexity, mixing notes of yeast, floral hops and touches of caramel. After a malty prelude, the palate opens the door to spicy notes leading to a very, very beautiful bitter finish. Both a tasty and beautifully refreshing beer.
As you'll have gathered, this wonderful Cuvée des Jonquilles is one of the best France has to offer. Want to taste the brewery's other beers? Don't miss Saint Médar Ambrée!
Sturdy packaging
Free return