Gonzo Imperial Porter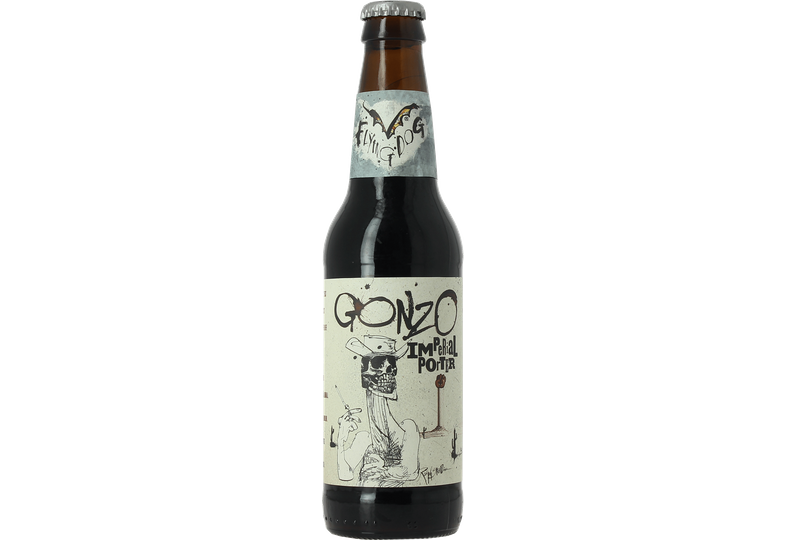 The Gonzo Imperial Porter was brewed in honor of Dr Hunter S. Thompson, the man who wrote the novels that inspired the Las Vegas Parano and The Rhum Diary, the man who left behing him a work of literature and journalism that reflects how his life was: Rich, Deep, True, and completely insane.
Characteristics
| | |
| --- | --- |
| Style | Porter |
| Volume | 35.5 cL |
| ABV | 9.2° |
| Country | USA |
| Color | black |
| Style | american porter |
| Appearance | |
| Aroma | |
| Taste | |
| Bitterness | |
| Sweetness | |
| Taste tag | warm & toasty |
Sturdy packaging
Free return
Customer Service
Product Description
The famous and crazy Brewery Flying Dog is giving us a real treat as usual with this new Porter: The Gonzo Imperial Porter. This beer, produced in a limited edition, was brewed in Dr Hunter S. Thompson's honour. In case you don't know who he was, remember the movie Fear and Loathing in Las Vegas. The story depicted in the latter is just one adventure among many others lived by the author and journalist, ambassador of the Gonzo Journalism. If I was to explain what is Gonzo Journalism in a few words, I would use the words Immersion, Truth, Subjectivity and Perseverance.
Stories and investigations are written in the first person form, leaving the reader immerse himself as much as possible. Dr Hunter S. Thompson has accomplished and depicted many other stories and social phenomena in his life. He lived among senior political figures, who dreaded his work, he spent a whole year with the terrible Hells Angels, adopting their way of life, he saw many times the awfulness of the capitalists, who fear neither God nor Man, for instance in Puerto Rico (one good example of this can be found in The Rhum Diary, which inspired the director Bruce Robinson for his movie). He almost got elected Sheriff in the Pitkin County, and contributed to a large extent to the development of The Rolling Stone Magazine; he was indeed a true genius of the pen.
Each new presidential campaign, sports event such as the Superbowl, investigation of a social phenomenonsy, article and book led him to live a full and rich life inside worlds that he knew by heart. He strived to depict what he saw by looking deep inside the very truth, even when the latter reflected the darkest and less human aspects of Mankind.
His ultimate goal was to find the American Dream, which he never found since that concept had been made up, altered, and used to control the population.
Thompson had known many great figures who dreaded him, each of this trip ended up with a stiff bill for the magazine he was working for at the time, since he had a lust for many vices. Dr Hunter S. Thompson died in 2005 at the age of 67.
Here we are then, with an excellent beer brewed in honor of a great man. The Gonzo Imperial Porter is brewed with two different strains of hop, the "Warrior" and the "Northern Brewer", it pours like any other Porter a characteristic colour close to black and topped by a thin, compact and clear brown head. In the mouth, it features strong flavours; one can easily recognize malts along with aromas of coffee and vanilla and light bitterness in the end. This beer gets perfectly along with strong cheeses and chocolate or coffee desserts.
Sturdy packaging
Free return