Dugges / Stillwater Tropic Thunder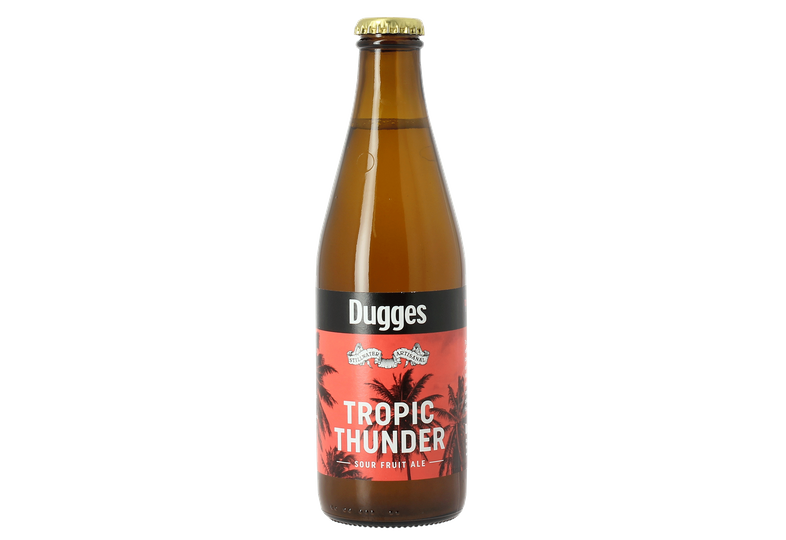 A Sour Ale type beer brewed in collaboration by Dugges and Stillwater
Characteristics
| | |
| --- | --- |
| Style | Sour/Wild Ale |
| Volume | 33 cL |
| ABV | 4.5° |
| Country | Sweden |
| Color | blond |
| Style | wild / sour beer |
| Appearance | Cloudy gold with a light head |
| Aroma | Passion fruit, mango, peach and citrus |
| Taste | Fruit salad and pleasingly sour |
Sturdy packaging
Free return
Customer Service
Product Description
Try Tropic Thunder, a fruity Sour Ale, born of a partnership between two excellent Craft Breweries : Sweden's Dugges and the American Stillwater brewery.
Tropic Thunder pours a cloudy gold on which rests a light, fleeting head.
The aroma is rich with tropical fruits like passion fruit, mango, peach and citrus. There's also the merest hint of pineapple..
On the tongue, there's a whole fruit salad waiting, with a pleasing acidity. You can't miss the peach, passion fruit, orange, lemon pineapple and mango notes.
Overall, this Sour Ale is a real fruit-basket, with nice acid notes: a veritable fruit bonbon in a bottle!
Sturdy packaging
Free return