Mikkeller Peter, Pale and Mary Gluten Free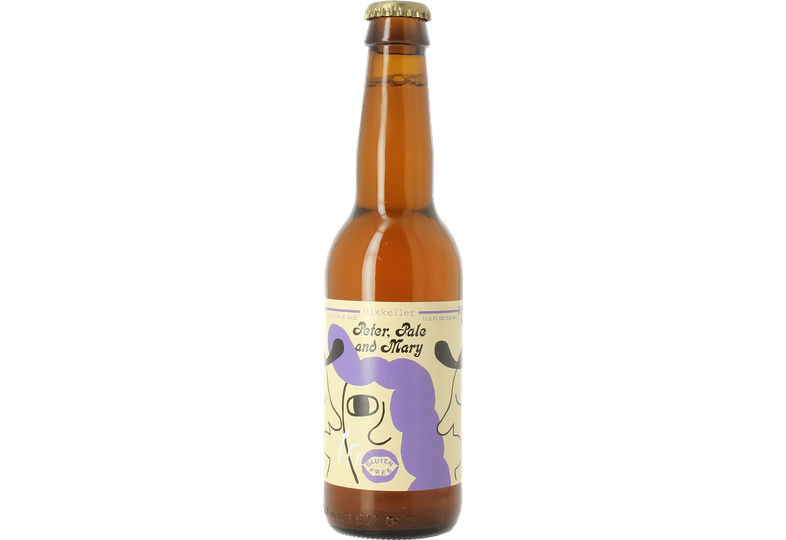 Mikkeller's gluten-free version of its classic Pale Ale
Characteristics
| | |
| --- | --- |
| Style | Pale ale |
| Volume | 33 cL |
| ABV | 4.6° |
| Country | netherlands |
| Color | blond |
| Style | american pale ale |
| Appearance | Orange body, thick white head |
| Aroma | Malt, caramel, hops, citrus, grapefruit, herbs |
| Taste | Fruity, floral hops, peachy, citrusy, malty, piny |
| Bitterness | |
| Sweetness | |
| Taste tag | fresh & hoppy |
Sturdy packaging
Free return
Customer Service
Product Description
Mikkeller is one of, if not the finest brewery in Denmark, and for good reason. The Danish brewer has built its reputation on innovation, proving that beer really can be for everyone, even gluten-intolerants.
Peter, Pale and Mary Gluten-free is, a new version of the Mikkeller's classic Pale Ale suitable for those with a gluten intolerance. And while the ingredients may have changed, the beer still offers the same great drinking experience.
Pouring orange-amber with a thick white head, this superb gluten-free beer offers inviting malt and caramel scents with big citrus and grapefruit hops notes.
On the tongue, you'll find more fruity peach and citrus tones with warm malts and crisp pine that work with the lightly carbonated, slick body to bring a fruity, refreshing finish.