Metropolitan Pale Ale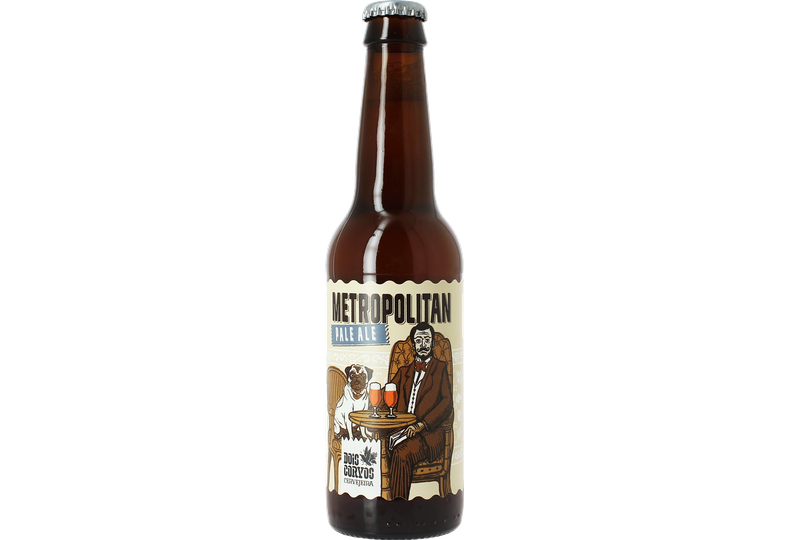 Floral, fruity American Pale Ale with light, summery flourishes
Characteristics
| | |
| --- | --- |
| Style | Pale ale |
| Volume | 33 cL |
| ABV | 5.6° |
| Country | portugal |
| Color | amber |
| Style | american pale ale |
| Appearance | Orange, off-white head |
| Aroma | Flowers, fruits, malt, caramel |
| Taste | Fruit, citrus, hops, malt, caramel |
| Bitterness | |
| Sweetness | |
| Taste tag | fresh & hoppy |
Sturdy packaging
Free return
Customer Service
Product Description
According to the Dois Corvos brewery, Metropolitan Pale Ale is a beer dedicated to sophisticated urbanites, as depicted on the label by a man and his pug-dog.
But what about the beer? It's time to put your prejudices and preconceptions to one side and trust your senses.
Pouring orange under an attractive off-white head, Metropolitan offers inviting floral, fruity flourishes, with classy malt, and caramel notes.
On the tongue you'll find citrus notes balanced by hops, malt and caramel which, married to a moderately-sparkling medium body, for a lightly bitter; pleasingly crisp finish.
Sturdy packaging
Free return