Complete Deluxe Brewing Starter Kit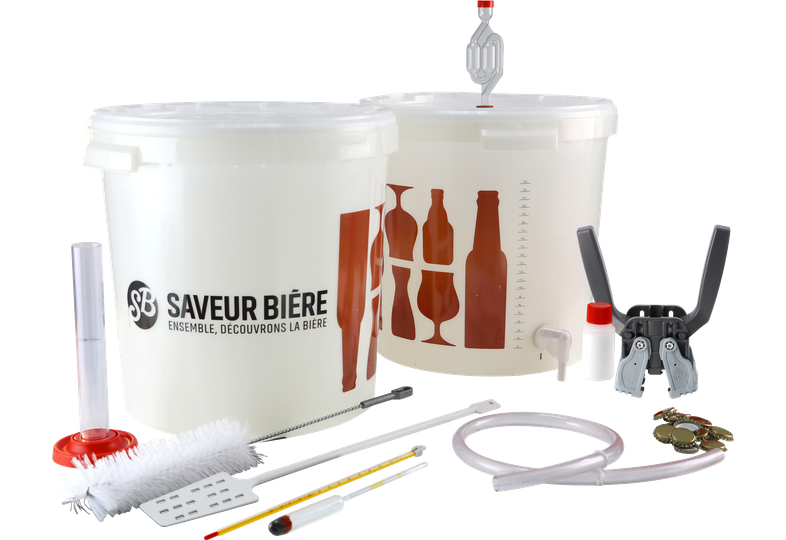 A complete amateur brewing kit to brew your beer at home using concentrate and all-grain beer kits…
Sturdy packaging
Free return
Customer Service
Product Description
So you're nuts about beer and you want to take your passion to the next level, but you're not sure where to begin? This comprehensive version of the Basic Brewing Kit is designed for amateurs who want to brew their own beer at home using Concentrate Beer Kits: a simple way to brew tasty beer.
It's a great, foolproof way to get started, and the addition of measuring equipment (test-tube, hydrometer, etc.) give you a much more hands-on brewing experience.
To complete the set you just need a Concentrate Beer Kit (the ingredients) and empty bottles to keep your precious brew in once its ready.
Your kit includes:
-       A 30L brewing bucket without hole
-       A cover (without hole) and a tap for the fermenting vessel
-       A 30L graduated plastic fermenting vessel with hole
-       An airlock and threaded PVC tap
-       A hose to transfer the liquid between containers
-       A thermometer to check the temperature of your brew
-       A hydrometer and test-tube to check the advancement of the fermentation
-       A plastic stirrer
-       A bottle capper with 26mm and 29mm adaptors
-       A bag of 100 26mm gold crown-caps for 25cl or 33cl bottles
-       A bottle brush and a sachet of disinfectant (dose: 4g/litre of hot water for 2 to 5 minutes)
Choose from beer kits in a number of styles Brewferm, Muntons, Black Rock and Coopers.
If you can't decide on a kit (there's a lot to choose from), why not try our quality Complete Advanced Brewing Kits for Blonde, Amber and Brown beers to help you make up your mind?
Sturdy packaging
Free return