Copperhead® Immersion Wort Chiller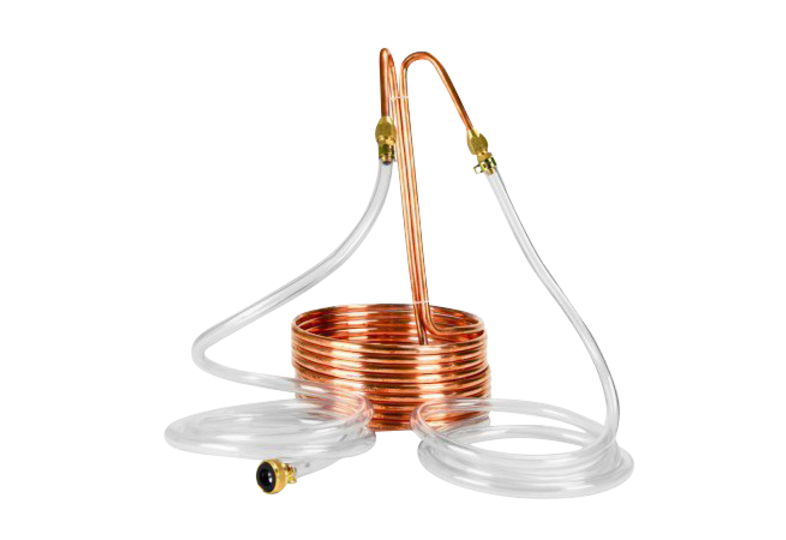 Fast, efficient wort chilling with the Northern Brewer Copperhead immersion chiller
Sturdy packaging
Free return
Customer Service
Product Description
A copper version of Northern Brewer's ever-popular Silver Serpent®, the sleek Copperhead® is a 25-foot copper immersion wort chiller offers a speedy solution for chilling your wort to the right temperature to pitch your yeast. Special connectors prevent kinks in your hose, and eradicate leaks. Make your brewing experience clean, fast and fuss-free. Supplied fully assembled with hose, ridged fittings and hose clamps.
The Copperhead® lets you quickly cool your wort to avoid contamination. The all-copper construction promotes heat conduction and makes cleaning a piece of cake.
It's so simple, you don't even need to sanitize; simply place your clean chiller in your kettle while you boil and it's ready for action.
Take the stress out of brewing. Special connectors prevent contamination. And leaks are banished!
Features secure tubing with ridged fittings. No more messy water jets. No more poorly-fitting hose clamps on wonky chiller connectors.
Maximum flow, minimum fuss! The Copperhead®; connectors eliminate kinked tubing. No more stress trying to support the water hose. Tubing hangs freely with no kinks and no fuss.
Standard garden hose connection lets you brew outside and connects to washing machine tap for your cold water source. The optional tap adaptor lets you connect your Copperhead® to a standard kitchen tap when you brew indoors. Dimensions: (W x H) 9"/23cm x 16"/41cm, 3/8" ID tubing, 25' of copper tubing
Sturdy packaging
Free return