Kwak Gift Pack 4 beers + 2 glasses on their wooden base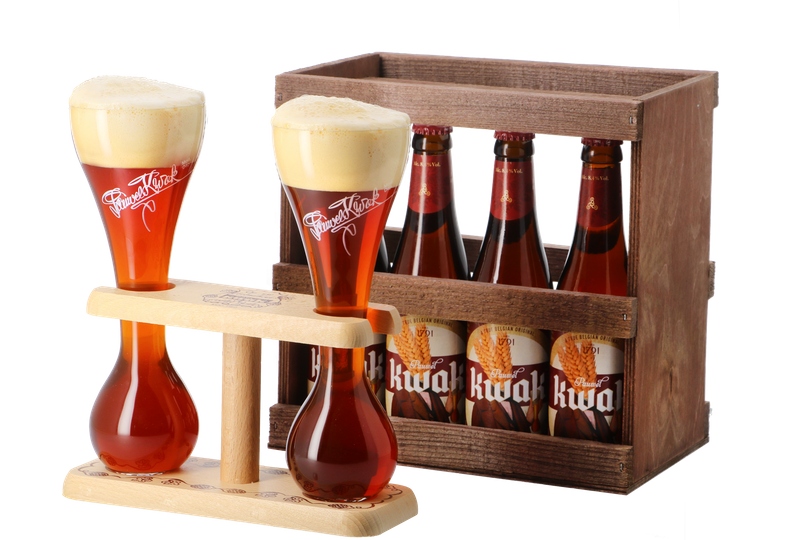 Discover a unique gift pack with 4 Kwak beers, with their 2 Kwak beer glasses on their wooden base. 
Characteristics
| | |
| --- | --- |
| Assortment Beer Count | 4 beers |
| Assortment Glass Count | 2 glasses |
| Assortment Country Count | 1 country |
| Style | Amber Ale |
| Country | Belgium |
Sturdy packaging
Free return
Customer Service
Product Description
The Kwak Gift Pack has an authentic and unique style, it is made up of 4 Kwak beer bottles and 2 Kwak beer glasses on their wooden base. The Kwak is a special beer brewed since 1791 and created by Pauwel Kwak, it features amazing flavours with notes of plum and nuts along with hints of caramel.
The Kwak Beer Glasses are singular glasses with a wooden base that allows them to stand. They contributed to the evolution of Kwak, offering an original way to taste this delicious beer. Its peculiar form makes the beer reach your lips at fast speed after it passes the narrowing part observable in the middle of the glass. It is 24 cm high and 9 cm wide and can contain 33cl of beer. Do not wait any longer to get this gift pack and share a friendly moment with those you love!
Sturdy packaging
Free return