The Organic Collection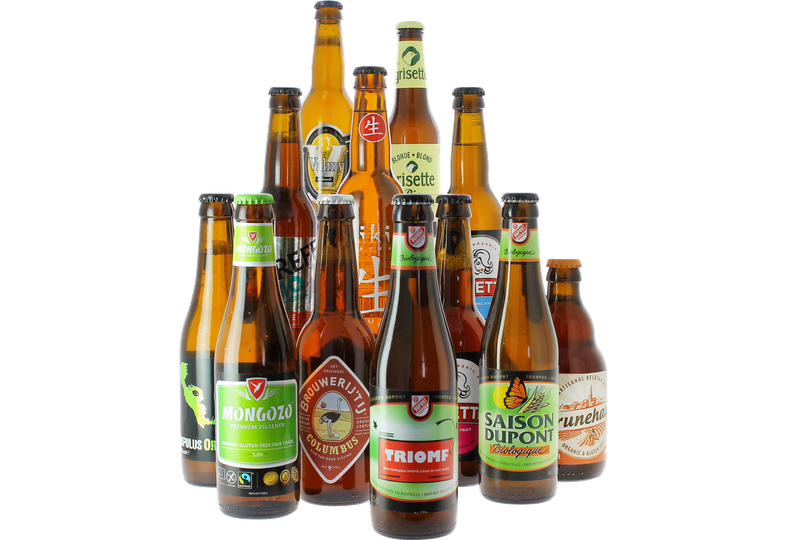 A collection of terrific Organic beers that prove natural selection works!
Characteristics
| | |
| --- | --- |
| Assortment Beer Count | 12 beers |
| Assortment Style Count | 10 styles |
| Assortment Country Count | 4 countries |
| Assortment Color Count | 4 colors |
| Style | Bio |
Sturdy packaging
Free return
Customer Service
Product Description
If you're a nature lover, what better way to celebrate your other passion than a collection composed entirely of Organic Beers. Saveur Bière has curated The Organic Collection, a selection of 100% natural beers from around the world, including:
Coreff Bio Ambrée - French Amber Ale with warm malts and dried fruit hints
Valmy Blonde - Sumptuous Blonde with warm fruity grain and spicy hops notes
Ginette Natural White - Zesty classic Blanche with characteristic citrus and spice notes
Ginette Natural Fruit - Sweet, sharp refreshingly fruity berry-infused beer from Belgium 
Mongozo Pilsener - Crisp, elegant Pilsner with a herbal, citrusy hops profile
Triomfbier - Belgian Ambrée bursting with toasty malts 
Saison Dupont Bio - Authentic Belgian Farmhouse Ale with fruity yeast and spicy pepper and clove notes
Brunehaut Ambrée Bio - Delicate Belgian Ambrée with sweet fruity malts and spicy, herbal hops bitterness
't Ij Columbus - Belgian Pale Ale from the Netherlands with bold caramels and a full fresh fruit and spice character
Lupulus Organicus - Gorgeous blonde Tripel with fruity malts and honeyed yeast notes
Iki Beer - Fresh, fruity Japanese Blonde brewed with fragrant yuzu orange 
Grisette Blonde - Refreshingly light blonde with a vivacious herbal side
At HOPT we want to bring you the very best beers, right to your door. Sometimes, one of the bottles listed is out of stock, in which case we'll replace it with a bottle of equivalent or greater value to ensure your experience at HOPT is the best it can be!
Sturdy packaging
Free return