Hoegaarden Blanche PerfectDraft Fat 3-Pack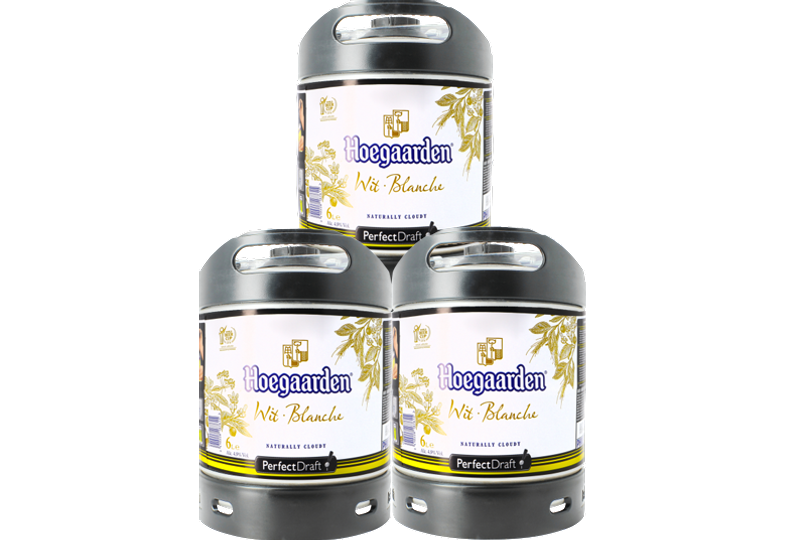 The world's most famous Witbier, packed with zesty lemon and spicy coriander - Now available in a Triple-Pack for PerfectDraft beer dispensers! 
Characteristics
| | |
| --- | --- |
| Color | Witbier |
| Volume | 6 L |
| ABV | 4.9° |
| Country | Belgium |
| Appearance | Hazy pale yellow, big white head |
| Aroma | Fruity, spicy, zesty lemon, coriander |
| Taste | Fruity, crisp, citrusy, coriander |
| Keg-use | Only with a dispenser |
| Dispensing tap | No, the keg cannot be used without a dispenser |
| Keg life | after opening 4 weeks |
| Keg with deposit | Yes, 5 euros |
Sturdy packaging
Free return
Customer Service
Product Description
Hoegaarden Blanche is the world's most famous Wheatbeer and now you can enjoy the perfect draft glass at home thanks to PerfectDraft.
Brewed with lemon zest, and coriander for the ultimate Blanche beer reshness, Hoegaarden Witbier pours attractive hazy pale yellow beneath a puffy white head. The aroma is an inviting mix of fine citrus and coriander with crisp wheat notes. This profile is echoed on the super-refreshing, light body with more zingy fruit and light airy wheat tones that lift the palate to a light, bright, perfectly refreshing finish.
You must have a PerfectDraft beer dispenser to use the Keg. Please check the compatibility of your beerpump. 
Hoegaarden Blanche PerfectDraft Fat 3-Pack
Hoegaarden
Sturdy packaging
Free return