Leffe Blonde PerfectDraft 6L Keg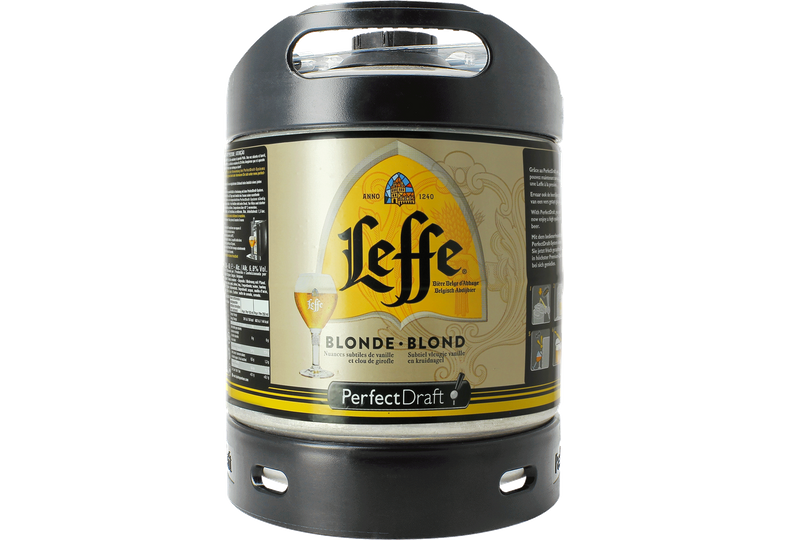 An internationally renowned blonde Belgian Abbey Beer brewed since 1240 - For use with PerfectDraft beer dispensers
Characteristics
| | |
| --- | --- |
| Color | blond |
| Volume | 6 L |
| ABV | 6.6° |
| Country | Belgium |
| Style | Pale ale |
| Style | belgian pale ale |
| Appearance | Bright gold, creamy head |
| Aroma | Powerful malt, fruits and spices |
| Taste | Malt, caramel, spicy |
| Keg-use | Only with a dispenser |
| Dispensing tap | No, the keg cannot be used without a dispenser |
| Keg life | after opening 4 weeks |
| Keg with deposit | Yes, 5 euros |
Sturdy packaging
Free return
Customer Service
Product Description
Leffe Blond is an internationally renowned Belgian Abbey Beer, brewed by Abbaye de Leffe since 1240 - proof of its remarkable quality.
Leffe Blond pours honeyed gold topped by a creamy, persistent head that leaves a great deal of lacing. Moderately carbonated, with robust cereal and wheat malts coupled with banana and clove yeasts, this well-rounded, caramel character is lifted by fruity, spicy tones and a superb continental hops character profile.
YOU MUST HAVE A PERFECTDRAFT BEER DISPENSER TO USE THIS KEG. Please check the compatibility of your dispenser.
Glass sold separately.
Breakage-proof packaging and free returns