"Vive la Belgique" Beer Gift Pack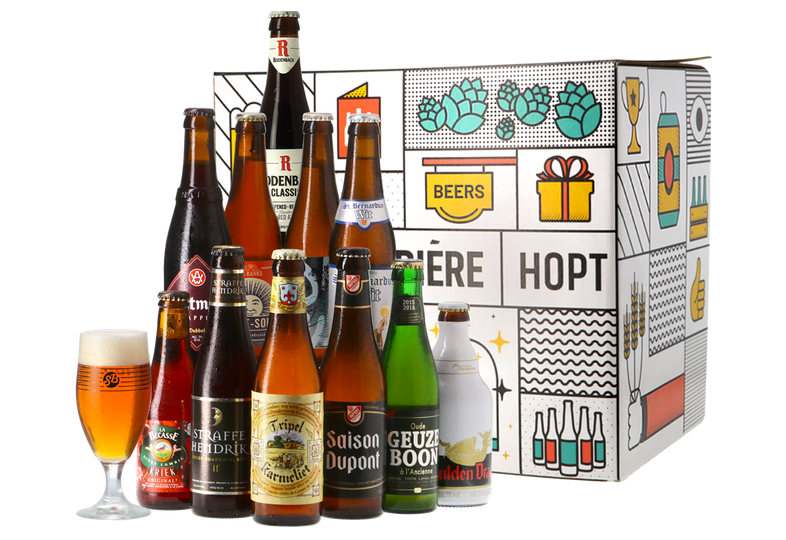 Enjoy some of Belgium's very finest beers in one exclusive pack
Characteristics
| | |
| --- | --- |
| Assortment Beer Count | 11 beers |
| Assortment Glass Count | 1 glass |
| Assortment Style Count | 10 styles |
| Assortment Country Count | 2 countries |
| Assortment Color Count | 5 colors |
| Style | Mix |
| Country | Belgium |
Sturdy packaging
Free return
Customer Service
Product Description
Ask anyone to think of famous Belgians and they'll most likely say Tintin and Agatha Christie's Poirot. Saveur Bière and Hopt have managed to find 11 to show off the very best that the country has to offer. Accompanied by a stylish Saveur Bière Glass, your specially curated Best of Belgium Beer selection includes:
- Tripel Karmeliet is a golden triple beer with aromas of caramel, spices, yeast and fruit such as banana.
- Adrienne, Limited Release is a refreshing Belgian Blond Ale, marked by its floral, malt and honey flavours. 
- Bécasse Kriek is a fruity Lambic with cherry, wood and malt flavours in a sweet and gourmet package. 
- From Halve Maan, Straffe Hendrik Quadruple is a brown beer with roasted malt, coffee and dried fruit flavours. 
- Saison Dupont is a beer brewed since 1844, revealing aromas of yeast, malt, fruit and hops.
- Westmalle Dubbel Brune is a Trappist brown beer with notes of caramel, roasted malt, dried fruit and licorice.
- From Ranke, Triple Solar is a blonde Belgian Tripel with aromas of banana, hops, bread, herbs and cloves. 
- Rodenbach is a Flanders Red Ale with hints of malt, wood and fruit. 
- Van Steenberge Gulden Draak is a Belgian Dark Ale with aromas of roasted malt, cocoa, dried fruit and yeast in a bitter package. 
- Saint Bernardus Wit is a white beer with flavours of coriander, malt, yeast and citrus fruits. 
- Boon Oude Geuze is a Belgian beer with flavours of spices, citrus fruits, lemon, grapefruit and wood. 
And to ensure the optimum tasting experience, your Gift Pack also features a Saveur Bière Bottle Opener, Bar Mat and Glass.
Sturdy packaging
Free return